REVIEWS
Chris Heisler –The Honor Network President and U.S. Honor Flag Founder
"We have the TST system on our tow rig and Grand Design Momentum fifth wheel, which is our full time home and official transport vehicle of the U.S. Honor Flag. This system has been flawless with immediate and accurate tire pressure and temperature readings. It has an easy to read visual display, provides 100% perfect connectivity, and gives our family a complete feeling of safety on the road. We travel over 60,000 road miles a year Honoring Heroes, so having a tire pressure monitoring system we trust with the U.S. Honor Flag is priceless".
Gene B. – Perry, Ga
"I am a true believer! You may find this hard to believe but within 15 miles of leaving Perry, GA last month I had a temperature alarm on my towed vehicle."
Chris W. – Boston MA
"Thank you for your prompt, professional service in honoring my warranty problem. You guys are the best!" ~ Chris W. Boston MA
Art D. – Atlanta, GA
"I am so relieved to know my tires are monitored. It used to scare me driving out west. Thank you for peace of mind!" ~ Art D. Atlanta, GA
Andy G. – Delray Beach, FL
"My system alerted me to a leaking tire in the North Carolina Mountains. My system has already paid for itself in more ways than I know. Thank you!!" ~ Andy.
Bill P. – Orlando, FL
"You beat all your competitors in price, features and quality. I am happy as a clam with your service and the system." ~ Bill P. Orlando, FL
Joan C. – Ocala, FL
"Thanks for keeping me off the roadside with our new yearling in tow. Your system has already paid for itself in ways you may never appreciate !" ~ Joan C.
Rex D. – Birmingham AL
"I personally think your product is better than the Pressure Pro system I operated for several years, and I like having the temperature as part of the tire information."
J.R. W. – Kiatook, OK
"While traveling at highway speed between the corn fields in Nebraska, I received an alarm on my TST TPMS that the heat and pressure of the right rear trailer tire was low."
Greg A. – Orwell OH
"Unbelievable! I have been looking at your system for a while and happen to see it at Camping World on my way from OH to FL for my Daughters Wedding."
Gerry P. – Rockaway, NJ
"After a blow out in 2016 and the damage it caused to my camper, I replaced all four tires within 2 hours...and ordered my RV 507! Today was traveling at 55 MPH and BEEP BEEP pressure dropping 47-35-21 within 30 seconds! Was able to pull over safely WITH NO DAMAGE to my camper this time. Huge metal bolt hole in the tread. 90 minutes for road service tire change. 45-minute detour to a tire dealer to replace my spare. Onward to the fun."
Ken M. – Loganville, Ga
"I called after hours on Wednesday night to report that my TST510rv was not working. At 8pm at night, a real person named Mike answered and asked how he could help!!! Wow!! He attempted walking me through some steps and nothing worked. He was perplexed like me. He stated it was probably bad batteries and offered to send me new sensors. I was impressed and pleased with the solution. The next day, I got another phone call from Mike telling me that he talked to his manager and that they were upgrading to a 507 model and that it would arrive the next day!!! It just arrived and I want to tell you.... I am VERY pleased!!!!"
This is customer service that exceeds expectations and I am recommending this product on my RV forums and to all my camping buddies!!! THANK YOU!!!"
Michael & Tina B.
"So just because you should know the impact you make every day... I had a blow out this weekend and your system, but moreover, the fact that you didn't flinch, and shipped me that repeater right away, saved my butt. It went off right away and I knew to get over and save my camper from flying tire shreds. You guys rock."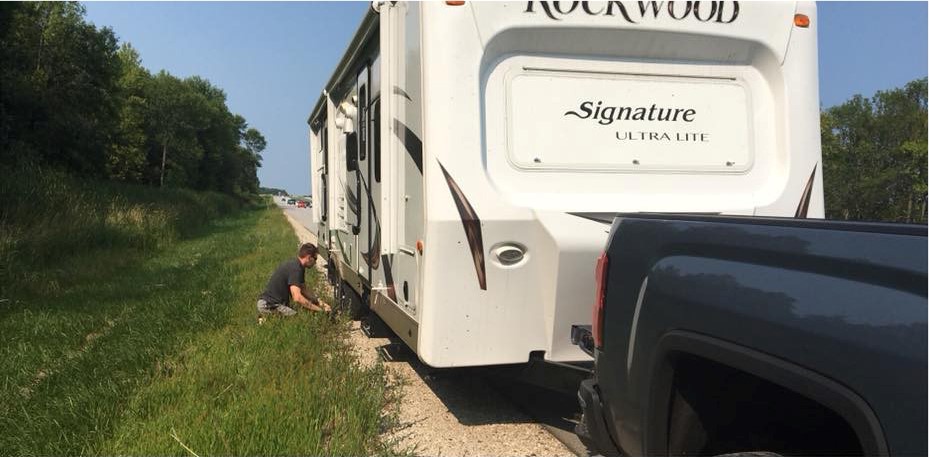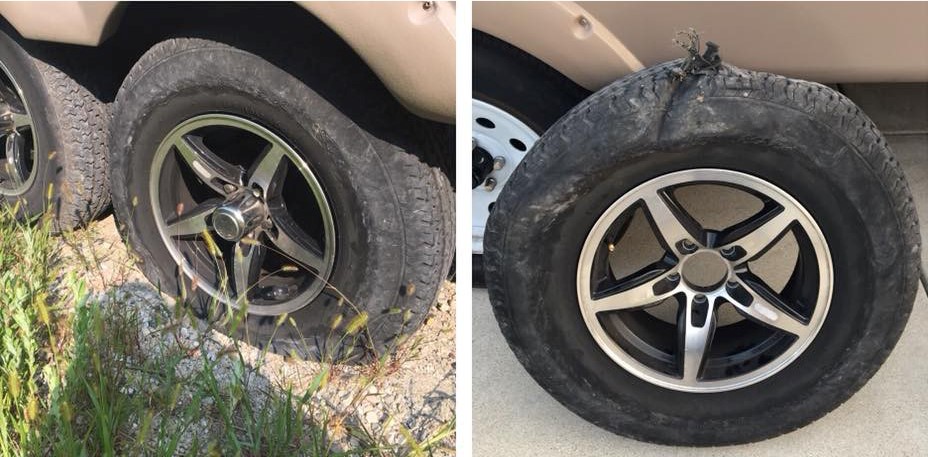 TST TPMS for the win tonight – (as seen on the Ford Truck Enthusiasts Forum)
"I was in the middle of nowhere Central Florida tonight taking my daughter to a tournament when I got an alarm on my TST for the right front tire. 'Nah, this is a 7000 mile 2019 F450 with the fancy tires that probably have enough rubber to regroove I thought.' Well, the alarm came back and now indicated 'rapid leak' or something to that effect and pressure was down further so I ducked into what looked like the only bit of pavement off the highway for 20 miles according to google maps. Oh, and there were thunderstorms everywhere. Not ideal. I easily found the puncture and went rabid to get a plug in it before it got too far down and broke the bead or whatever these tires do. I think it was about 25 lbs....
Needless to say, the TST system worked as advertised and I'm super stoked I bought it. I will also add that they have been extremely helpful on the phone helping me set up my trailer sensors too. Recommended!"